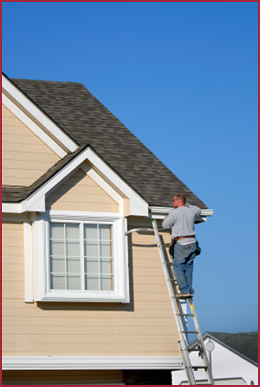 About Us
Joe's Guttering has over 21 years of experience with our trained installers and estimators. I am licensed and bonded with...
Services
Big or small all jobs are important!

Protect your property's foundation, doors, windows and lawn from pounding rain...
Testimonials
Dear Joe, Twenty years go I had my entire new house fitted with guttering from this business. That job remains a perfect today as it was the day Joe's Guttering installed it. I recently had a small job to install guttering on a shop in my yard. So I called Joe's Guttering and Gene came out two days later and quoted the job at a very reasonable figure. Within a week, Joe and his men were at my home and completed the job in about an hour. It is perfect in every way. I would be happy to reccomend Joe's Guttering to any commercial business or homeowner. They are a local business with a 30 year reputation of responsiveness, great workmanship and reasonable prices. I deeply appreciate the response and the workmanship I have received over the years. This is a fine business.
William M. Lide, Jr.
Dear Joe, It It has been serveral months since we had your company install gutters on our house. We have had serveral good rain storms and we would like to say how impressed we are with the installation and performance of this gutter system. Your workers did an outstanding and very professional job with the installation. There were a couple items that were done that we hadn't discussed, basically the deflectors installed on two corners. We really appreciate to extra attention to detail that your company applied On another note, I had one area of concern with the installation. I called the office in the morning and a crew showed up to repair that afternoon. This is kind of service you hope for, but very seldom receive. Again, Thanks to you and your entire staff. Please be assured that I will recommend your company to anyone I know. If you ever need a recommendation or would like to use us as a reference, we would be happy to assist in any way we can.
Anthony Cross Lexington, S.C.
Dear Joe,
Just a quick note to thank you for your prompt professional service on the installation of guttering at my home, they look great and the color match is perfect. My wife also appreciates the extra attention given to the placement of the gutter chains so they could be seen during a rain.
Thanks again.
Dr. R. Michael Johnson
Columbia, S.C
Joe's Guttering installed gutters on our home ten years ago and we have always been pleased with the results. Mr. Joe Emanuel and his crew of men were skilled and very professional. They showed up on time, worked until the job was completed and did a great job of cleaning up before leaving.
We have had the opportunity to recommend Joe's Guttering to other people and have received very favorable comments from them about the work done on their home.
Ed and Betty Seibert
West Columbia, S.C
WOW! We love our gutters! We have a difficult shade and Joe's Guttering matched it perfectly. They were always on time and professional. We would recommend them to anyone looking for new gutters.
Wayne and Binky Baughman
West Columbia, S.C